Crisis Resources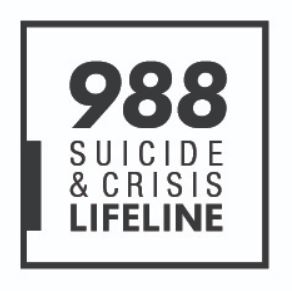 24 Hour Utah Crisis Line:
1-800-273-8255
TTY 711
Assists individuals who may be experiencing a crisis to access support and services as quickly as possible. Serves all of Salt Lake County 24 hours a day 365 days a year.
MCOT
(Mobile Crisis Outreach Team)
1-801-587-3000
Teams assist and support individuals dealing with a mental health crisis by going to the individual wherever they are in Salt Lake County. Accessed through the Crisis Line.
Utah Warm Line:
1-833-SPEAKUT or
1-833-773-2588
Phone line open 365 days a year from 8:00 AM to 11:00 PM. Provides a friendly and understanding person for those who need someone to talk to and enables individuals with a mental health challenge to talk to a peer about issues they are facing in their lives.
Optum Salt Lake County - Privacy
Optum is very sensitive to privacy issues. We respect your right to privacy and feel it is important for you to know how we handle the information we receive from you via the Internet. In general, you can visit www.Optum.com without revealing any personal information about yourself. If you choose to provide Optum with personal information, it may be necessary in some cases for us to provide your information to our contractors or agents in order to respond to your inquiry.
Customer Information Practices Statement
Optum is a health and well-being company that provides products and services to help our customers improve health care treatment, delivery, and financing. In our operations, we often possess personal information that identifies individuals and other proprietary information about our customers' operations. Preservation of, and respect for, our customers' trust is critical to our continued success. Therefore, we will always treat such information:
Confidentially, according to applicable laws.
Appropriately, according to the promises we make to our customers.
Respectfully, according to our concern for the sensitive nature of such information.
Information Security:
We maintain appropriate physical, electronic, and administrative security standards and procedures to safeguard our data and systems. Our employees are educated on the importance of our privacy and security policies and must comply with them. Employees are permitted to access and use only that personal and proprietary information they need to perform their job duties.
Information Processing:
We try to use only the amount of personal and proprietary information necessary for research, analytical, or derivative product development purposes that are consistent with:
Our core business mission to provide high-quality products and services to our customers;
Our contractual and legal obligations to customers, data controllers, and individuals from whom we receive such information; and
Applicable law.
We have procedures to maintain the integrity and confidentiality of information while in our care.
When we receive personal information from customers or other data controllers, we rely on their obligations to provide individuals with any required notice and consent for the intended purpose or we obtain additional consent/authorization as necessary. We process personal information obtained from clinical research trials in accordance with the individual's informed consent, national laws, and international guidelines governing human subjects protection. Research using personal information is approved by an institutional review board, ethics committee, or privacy board where and as required by law.
When we collect personal information directly from individuals (such as those interested in participating in a clinical research trial or becoming clinical investigators) on behalf of a customer, we will provide such individuals with:

Notice about the intended use and disclosure of their information;
choice before using or disclosing their information for any other purpose; and
the ability to access and correct their information where required by law.
De-Identified Data:
We remove, encode, or encrypt individual identifiers from personal information to the fullest extent possible consistent with its intended use. In some cases, we receive personal information from customers and data controllers for the purpose of de-identifying it on their behalf. We anonymize such data using statistical techniques to create aggregated norms or benchmarks, such as hospital performance measures or benchmark insurance charges in a regional area.
Clinical Communications:
We may partner with customers such as health plans and health care providers to help them inform patients about treatment options such as clinical trials. We also may partner with customers to help them provide information on health-related products and services of potential interest to their consumers. We will not use personal information for such purposes unless:
The activity is permitted by law;
the activity promotes health and well-being; and
individuals are given the opportunity to "opt-out" of the program or to "opt-in" to the program where required by law or by the customer or data controller.
In addition: We will not distribute information or solicitations to consumers enrolled in government health care programs for purposes other than assisting a customer in carrying out treatment, payment, or health care operations, unless approved in advance by the sponsoring government agency and requested by the individual without any solicitation on our part.
We will not solicit or provide information to consumers based on their status with or at risk for mental health, substance abuse, or HIV/AIDS, unless we are acting on behalf of a customer who has obtained appropriate consent/authorization or is otherwise legally authorized to make such contact, or when approved by an institutional review board or privacy board for research purposes in accordance with applicable law.
Information Disclosure:
We will not disclose personal or proprietary information, which we obtain in the course of providing products and services to our customers, to any third party except: (1) as required by law, or (2) consistent with applicable law and our obligations to the customer, data controller and/or individual from whom we received the information, as follows:
We may disclose personal information to a service provider to perform a specific service on our behalf, but only when consistent with this policy and subject to a contract that:

Prohibits them from using the information for any other purpose;
requires them to conform to our privacy and security obligations; and
allows for an audit of their compliance.
We will not share one customer's information with another customer, except at the customer's direction or as part of de-identified aggregated norms. At the direction of a customer, such as an employee benefit plan sponsor, we will disclose the customer's information to its other service providers, from its service providers back to the customer, or to other entities participating with the customer in an organized health care arrangement. The other entities may also be our customers.
We disclose personal information about clinical investigators and encoded patient data from clinical research trials to the study sponsor in accordance with the individual's consent or contract. Personal or proprietary information may be included in assets transferred as part of a merger or sale of the company's assets.
International Data Transfers:
Optum is a multi-national company with offices and customers in many countries. We may transfer personal or proprietary information to one of our other international offices, to contractors, or to a customer located outside the country in which it was originally collected in accordance with international data protection laws.
Website Privacy
We do not identify visitors to our World Wide Web site unless they choose to identify themselves, such as to obtain information about products or clinical trials.
Our website may deposit a small file called a "cookie" on a visitor's computer hard drive to personalize their experience or track aggregate site visitation statistics. Visitors may choose to use technologies to block such "cookies," but in some cases they may not have access to the full functionality of the website.
We may record a website visitor's Internet Protocol (IP) address for security reasons and to evaluate how our website is being used. We do not use IP addresses to identify individuals.
Our website is not designed to attract children; we do not collect or maintain information from our website from individuals that we actually know are under the age of 13 years.
Certain portions of this website are configured to permit users to post messages, comments, or other content. Any such content is only the opinion of the poster, is no substitute for your own research, and should not be relied upon for any purpose. You should not post any content

which is profane, libelous, defamatory, obscene, pornographic, indecent, lewd, harassing, threatening, harmful, invasive of privacy or publicity rights, abusive, inflammatory, or otherwise objectionable; and
the transmission of which could violate, or facilitate the violation of, any applicable law, regulation, or intellectual property rights.
You are solely responsible for the content of any postings you submit and Optum assumes no responsibility or liability for any content submitted by you. We may, but are not obligated to, restrict or remove any and all content from a message that we determine in our sole discretion violates these guidelines or is otherwise harmful to us,
Optum customers, or any third party. Optum reserves the right to purge the content you provide after 90 days of creation, but you understand that Optum may access, preserve, and disclose the content if required to do so by law or in a good faith belief that such access, preservation, or disclosure is required by law.
Any content you submit is for non-commercial use only. Any content you submit will be routed through the Internet and you understand and acknowledge that you have no expectation of privacy with regard to any content you submit. Never assume that you are anonymous and cannot be identified by your posts.
If you do post content or submit material, and unless we indicate otherwise, you grant Optum and its affiliates a nonexclusive, royalty-free, perpetual, irrevocable, and fully sublicensable right to use, reproduce, modify, adapt, publish, translate, create derivative works from, distribute, and display such content throughout the world in any media. You grant Optum and its affiliates and sublicensees the right to use the name that you submit in connection with such content, if they choose. You represent and warrant that you own or otherwise control all of the rights to the content that you post; that the content is accurate; that use of the content you supply does not violate these Terms and Conditions and will not cause injury to any person or entity; and that you will indemnify Optum or its affiliates for all claims resulting from content you supply.
Contact Us
To contact us regarding this policy and our related privacy practices, please email or write to us at: privacy@optum.com or Optum Privacy Office, MN051, 13625 Technology Drive, Eden Prairie, MN 55344. If you believe we or any company associated with us has misused any of your information please contact us immediately and report such misuse.
Effective Date
The effective date of this policy is January 1, 2017.